New Gardening Adventures
---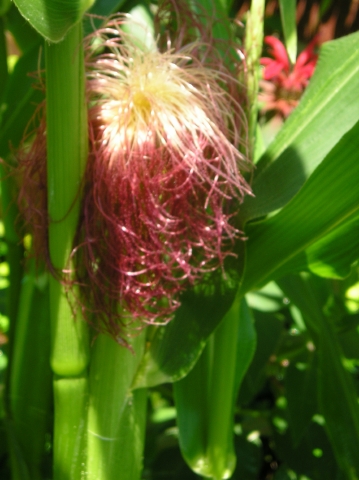 As some of you know, I moved last summer to a lovely condo with a whole lotta shade and no where to grow the veggies I love to grow every summer. It was OK going to the Farmer's Market every week and picking up whatever I could find in season, but I sure did miss growing my own. At my old house I grew several tomato varieties, broccoli, pole beans and a lot of herbs. I love to cook, and using fresh herbs and veggies makes my dishes sing.
This year, in an effort to again have our own fresh produce to eat and share, we've obtained a community garden plot nearby, just a few miles away. Already, we've been planning what to plant where, what kinds of things to grow, and drooling over catalogues. Decisions, decisions!
In addition to again having plenty of space to grow things, I'll have a garden to blog about! I'll be writing about the process, the problems, and the progress as well as posting photos of all the yummy things we'll be growing out there. What fun we are going to have! My partner Al has a bit of experience gardening and is very willing to work along side in helping with the planting and upkeep, so it should be very pleasant to throw our tools and the dogs in the car and do a bit of farming in the evenings.
A couple of days ago I found a fantastic opportunity that fits right in with this year's gardening project. It's the Seeds of the Month Club! I happened to find them on Facebook and checked out the process- it looked like fun to me, so I signed up. Mike the Gardener says:
From novice to experienced, millions of people around the world grow their own vegetables. Some do it for fun as a hobby but many do it as a means to put healthy, safe food on their family`s kitchen table for a lot less than what they would pay in stores. With a monthly Seeds Club subscription you can cut your costs even further to as little as $0.06 per day!
Signing up was really easy, there are different plans available and it's really risk free. Every month I will get 4 new packets of vegetable seeds to try out (or can fit them in, in my case).
So today, in our mailbox was an envelope with four packets of seeds: Marketmore Cukes, Green Flesh Honeydew Melon, Paris Island Cos Lettuce, and Ace 55 Tomato. Way cool! We're off to a great start on our vegetable patch, and whatever seeds we can't use, we can share, give away, or save for next year's garden. I can't wait to see what comes next month! I invite you to check out the sites below, and join me in this adventure.
See you in the Garden!