July out at the 'Farm'
---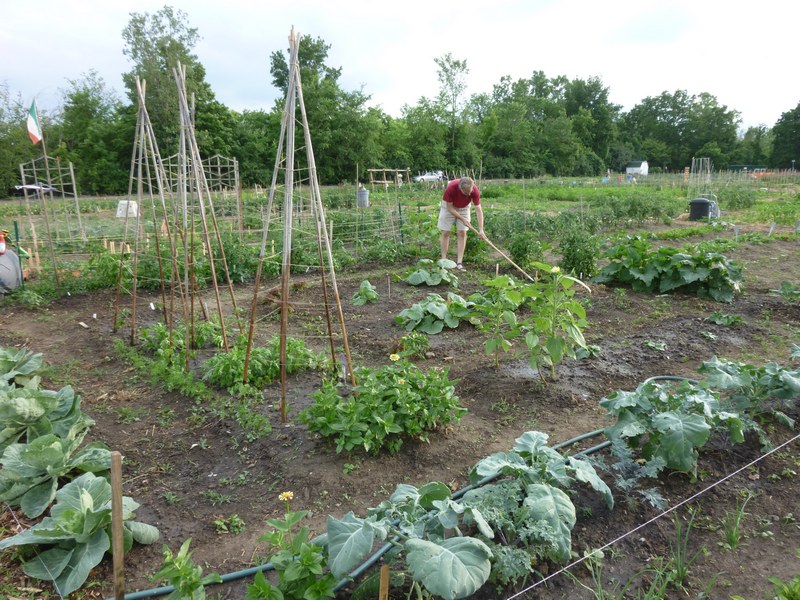 I've been a bad girl and have failed to keep you up-dated on the progress of our 'Farm'. Almost everything planted has done amazingly well, especially the weeds, and we have started harvesting crops already. We had a good start with the zuchini, and got a bunch of them all at once, but one plant has died and I think maybe the heat has slowed down the other one. That's OK, we have enjoyed the ones we have eaten, and there will be more. Some of the brocolli have produced some yummy heads, the lettuce was delish. Last week I thinned out the beets and cooked up a mess of beet greens and baby beets that was wonderful!!! So much so that I just went out and bought more beet seeds for a second crop to fill in the spot where we lost 3 cabbages. I think I might try to slip in those pretty Swiss Chard Rainbow Mix seeds next to the beets too. The cabbages are getting big enough to start harvesting, so we'll be having some cole slaw for dinner pretty soon. Last night I picked three nice sized pickle cucumbers to add to some greek salad for dinner this evening.
Below are some photos I've taken as things progress out at the 'Farm'. You can see how fast things are growing! The bottom picture was taken just late last week, there is hardly room to walk down the paths to water and check the crops. There's a good set of green tomatoes on most of the plants, so any day now, we expect to start harvesting those. And the winter squashes!!! Sheesh! I swear they are trying to over-run the whole place. I have to keep steering the vines back into their designated area, otherwise I think they'd be out on Newburg Road
Al, diligently hoeing weeds
things are growing!
and growing
and GROWING!!!
I got another nice selection of seeds from the Seeds of the Month Club this month, and while I won't be able to fit them into this season, there is always next. This month I got some Garlic Chives, Salad Cucumbers, Okra, and Sweet White Spanish Onions. The seeds will keep until next summer, unless I see that yes indeed, I can fit in just one more crop. By then, I should have a really nice collection of wonderful new things to try, Mike sends such a great assortment every month.